Shopping Cart
Your Cart is Empty
There was an error with PayPal
Click here to try again
Thank you for your business!
You should be receiving an order confirmation from Paypal shortly.
Exit Shopping Cart
YES, the good news is that after waiting an extra 4 weeks longer in Mombasa than expected, We finally have our car and have started our journey.!!!  You have no idea how good this feels right now and the relief we have,   But it didn't come without it's problems.!!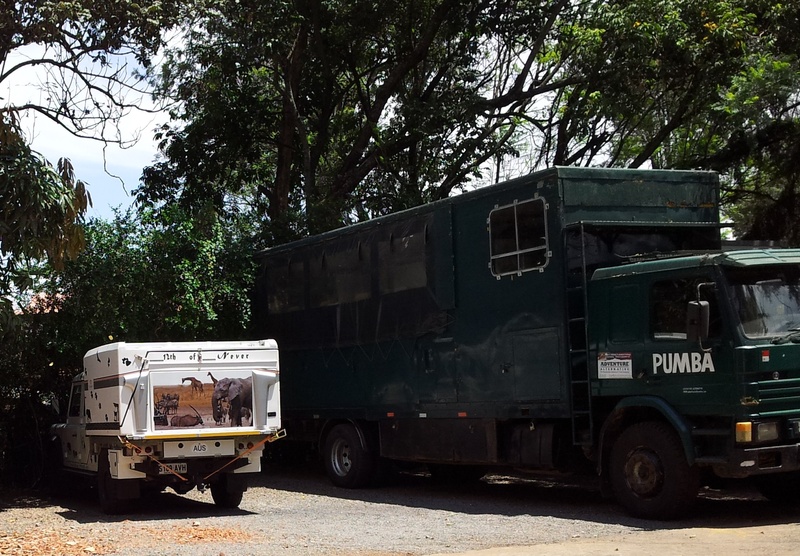 THE OFFICE FINALLY IN AFRICA  SIDING UP AGAINST ONE OF THE BIG BOY...
Read Full Post »
        Jambo everyone,  we are still on the coast of Mombasa waiting for our car, which are told will be some time after the 15th, when the ship is due to arrive.  ??!!   So, since i last wrote, we have left our nice little resort of royal Reserve and have been staying in the town of Mombasa at a hotel called New Palm Tree.  Not quite as lavish you might say, but at least it has  air-con,  toilet & shower, and is close to all the shops.
Read Full Post »
JAMBO  EVERYONE;     Well has been a busy but relaxing week for us.  After taking the very old train from Nairobi to Mombasa (the very same day of the terrorist attacks,  AND a couple of day later on it's return journey, the last carriage of our train did de-rail and turn over,... the driver who was telling us this, said it is not so unusual here,  it explains why we had to wait for a while when we were at the Nairobi end, cause the manager on the train said we h...
Read Full Post »
Some of you may of heard of the trauma in Kenya today.  Gunmen barged into a major Kenya mall where the upperclass kenyans and ex-pats live.  Currently, the report is 20 killed and 50 wounded with unknown amount of hostages.   As i write this, i believe the situation is still ongoing, with the army coming in.  It is believed that the somali Al Shabarb  is responsable.    I thought it sensible to let you all know that we ...
Read Full Post »
/