YES, the good news is that after waiting an extra 4 weeks longer in Mombasa than expected, We finally have our car and have started our journey.!!!  You have no idea how good this feels right now and the relief we have,   But it didn't come without it's problems.!!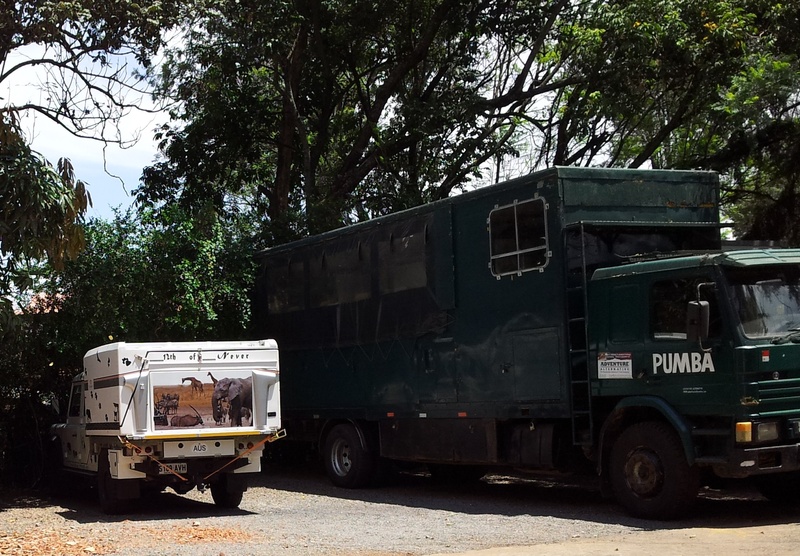 THE OFFICE FINALLY IN AFRICA  SIDING UP AGAINST ONE OF THE BIG BOYS!!  (makes us look so small)
After being in port for exactly a week, we received our car on Monday night at 7pm.....but we still did not have the final paperwork we needed to drive on Kenyan roads... so we had to wait til morning.                               On seeing our car we learnt that all 4  ratchet straps holding the camper onto the car, (kiind of an important assest to have) were  all CUT.    Our agent  tried to tell us they were cut because the car was anchored to the inside of the container with those straps..... (we showed him our photos to prove where the straps were attached and we had no argument)...the problem was, once again,  no-one actually LOOKED to see where the straps went, so they just assumed and cut them.... so naturally we had to buy 4 new ones before we could start.... so far, we have not been able to get a set that is as good as we had, but at least we could find some to go on with.  
They also  found they could not open the 2 small side cabinets at the bottom of the  car, so they  used a screw driver to force them open,  which means of-course now the locks are broken and we cannot lock those cupboards.... luckily they did not try the same with the main camper, although they had cut off 2 padlocks from the top latches... we feel fortunate that they did not try to jimmi the top open.        that is when they had the brilliant idea that maybe they will  ask if  we could come with the keys.!!  The medical equipment that was inside the car itself had already been pulled out, looked through and roughly packed  back into the car........so much for my careful dilligent efforts to keep them steady and safe.
          So, again we waited... until finally our agent  turned up after midday  on Tuesday with our invoice & paperwork to drive on the roads here, BUT.. he informed us, that his office had run out of the 'official' paper needed, so he gave us signed receipts etc, and wrote a note about what happened,... saying we could get the  proper  paperwork from Nairobi.  It was fortunate that he gave us that  reciept and explaination, because we had to show it last night when we were pulled over at one of the random police checks they have along the main Mombasa highway.
So, we left Mombasa at 12:30 yesterday and got into the UpperHill Camspite in Nairobi at 11pm.      Bob is now in Nairobi  getting that official paperwork from the Kenya Revenue Authority,  and  right at this moment, he is purchasing the extra medical equipment that he ordered last week. ( the twin suction unit, 2 ceasarian units and a delivery unit).   Dr. Roberts from Lodwar will be joining us here tonight so we can give him all the equipment for Lodwar and he will return with it by plane tomorrow which  works well for both of us.             The only things we have not got yet is the Pluse Oxy meters which we will still order and when they arrive we will pass on to the relavant hospitals and clinics.
So that, my friends,  is the current situation. We are happy to be on the road, and i am happy to be able to open the kitchen of our camper and feel like i am at home.  Tomorrow we will go to Sheldricks elephant orphange where we deliver  our cash donations, microscopes and infrared spotlight.  We are looking forward to see all the baby elephants in the nursery right now. I believe they have 4 tiny babies and a total of 35 elephants all under 2 years old,  all rescued orphans.  Their website is   http://www.sheldrickwildlifetrust.org        if you would like to check it out... they do an amazing job.
We will be in Nairobi for only 2 days, (we hope) then it is off the Aitong and Maasai Mara..... will give you new updates after we have delivered all our goods and got new info.    Kwaheri  from Africa my friends.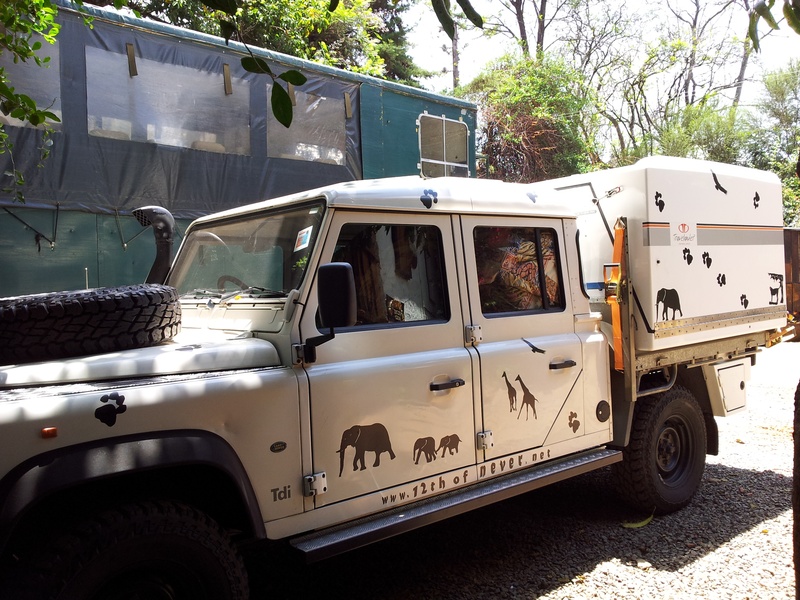 AND HERE IS THE OFFICE FINALLY IN  AFRICA  SIDING UP AGAINST  THE  BIG  BOYS!!!