Shopping Cart
Your Cart is Empty
There was an error with PayPal
Click here to try again
Thank you for your business!
You should be receiving an order confirmation from Paypal shortly.
Exit Shopping Cart
| | |
| --- | --- |
| Posted on May 9, 2015 at 9:05 PM | |
What a great couple of days. We went to the south Dakota air & Space museum which had heaps of planes, a rocket, and so much more to learn about. Next, we found Fort Hayes, which has the 2 original buildings made for the Dances with Wolves Movie.  The actual filming was done about 13 miles up the road, in the Black Hills, BadLands, which is lovely rolling hills, which we immediately reconised from the movie. The 2 buildings were finally moved back to this area, and in the summer months, you can go inside to see more of the movie set... but sadly, it was not open just yet.           Later that day we pulled into Mt Rushmore late in the afternoon yesterday, had a quick look at the monument high on the hill then came back to the town for tea and a look around... note the wooden bike in the photo gallery.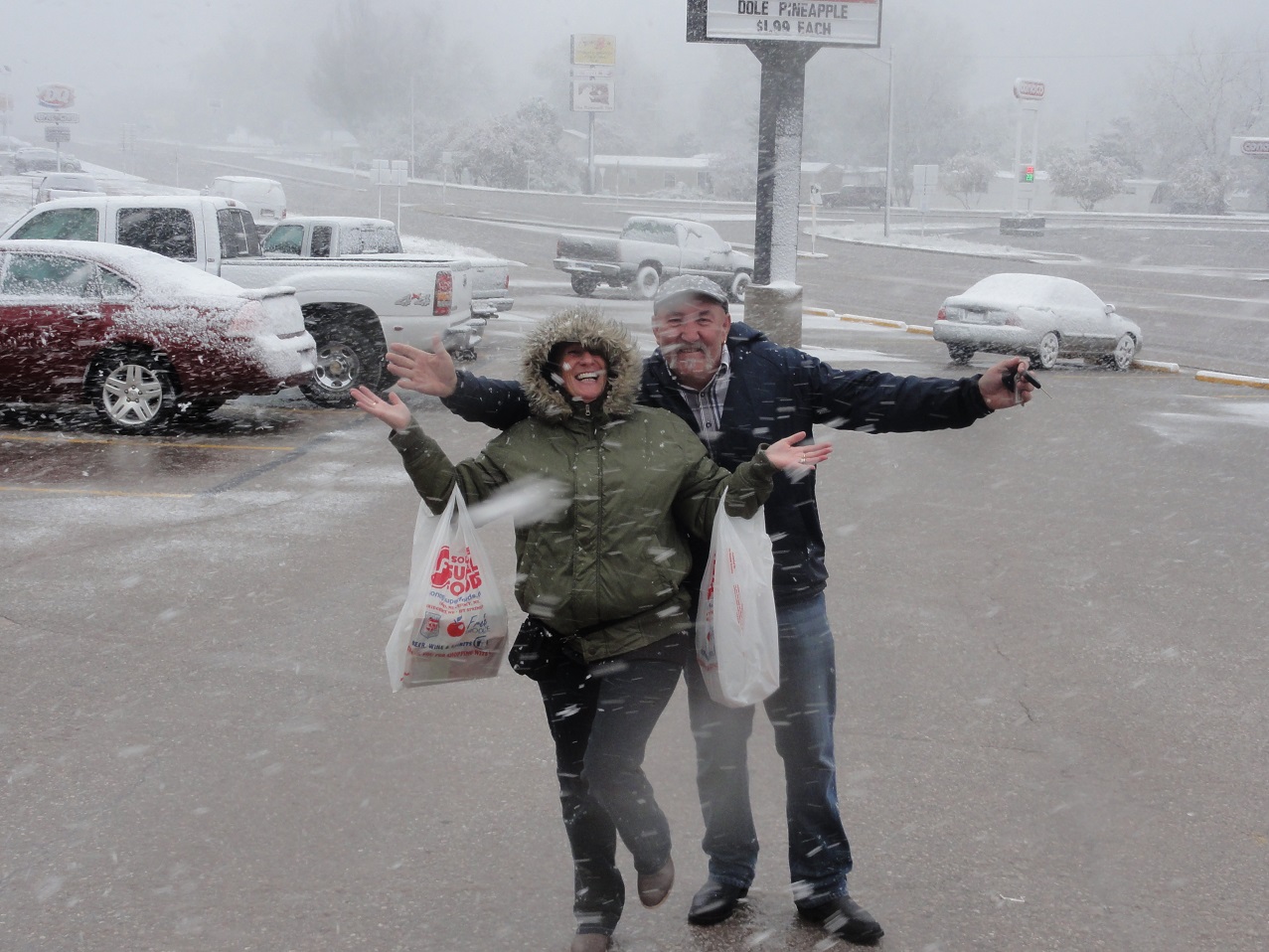 In the morning, we woke up to zero degrees & snowing outside....yayyy, it was beautiful to be able to stand in it while it snowed on us.  Knowing they were expecting about 2 foot of snow, we got going quick as we could so we didn't get snowed in there.... the snow got heavier as we drove on and we thought maybe we should go back,... but we followed some others, took it slow, and kept looking on in awe at how beautiful it all was.  As we drove through a national park, we found a Coyote and 3 Bison in the snow.... so totally different to how we have seen them before.

By the time we  got to the town of Hot Srings, the snow had stopped, and as yet, this town did not have any snow. All that changed later in the day.  We went into  the Mammoth Paleo Site, which is a 'running site' with ongoing digs.  To date, they have found 61 Mammoths in this site.  Nature created a sinkhole, thousands of years ago, and as Mammoth, (and other animals) came to drink or eat the grasses growing in the edge of the water,  the animals would often slip n slide into the water of the sinkhole, and with the type of dirt that it was made of,  it was too slippery for any animal to escape from.... hence, so many skeletons in the one area.  Public are allowed to see the site, which is interesting because they are leaving the skeletons in place and not removing them.

By the time we came out of the paleo site,  snow was falling heavily once again, and the short time it took us to pick up a few supplies for tea tonight, our car was covered again.... even more than this morning.  Now we sit here in our hotel, wondering if we will be able to leave this town tomorrow or not.  I totally understand why Sirry, our friend from Iceland, gets so excited with the change of season and the first snow.  It is a lovely site to behold.

As a final word,  we would like to wish all the MOTHERS out there, a very special HAPPY MOTHERS DAY.


Categories: Yellowstone, cowboys, indians & canyons. May 2015

0

/